ParentPay and The Shop
Payments for school meals, trips and events are only accepted online via the ParentPay website or by cash at a PayPoint at local retailers*. Cash is no longer accepted in school for these items.
Please use the links below to access either ParentPay or The Shop:
---
---
ParentPay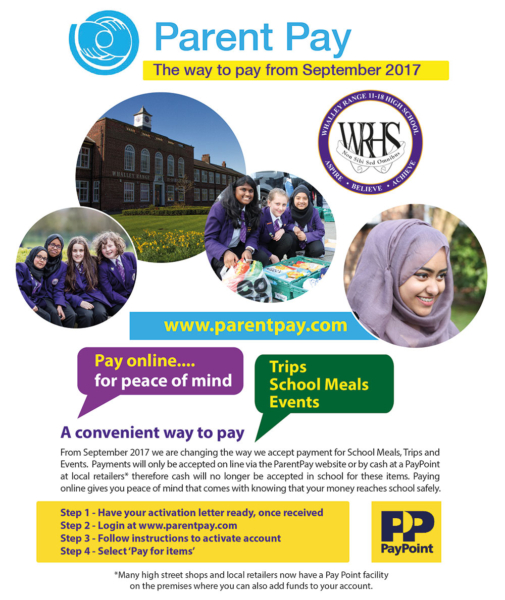 ParentPay is an online payment service used by our school. It allows parents/carers to make safe and secure online payments for things like dinner money and school trips. Please follow the link above to access ParentPay and login to your account.
Paying online gives you the peace of mind that comes with knowing that your money reaches school safely.

*Many high street shops and local retailers now have a PayPoint facility on the premises where you can also add funds to your account.
How to use ParentPay
Step 1 – Have your activation letter ready, once recieved
Step 2 – Login to www.parentpay.com (a link to ParentPay can always be found in Resources too)
Step 3 – Follow instructions to activate your account
Step 4 – Select 'Pay for items'
Find more useful guidance and answers to many questions on the Parent FAQs page of the ParentPay website.
---
The Shop
To purchase smaller one-off items such as performance tickets, locker keys, calculators and revision guides you can now use our school's online shop. The shop allows you to purchase these types of items without the need to login to ParentPay. Please follow the link below to browse the shop: