Sixth Former for a Day: Live Event for Year 10
( Published: 02/07/2020)
On Wednesday 1st July and Friday 3rd July, the Sixth Form will be hosting a virtual Sixth Former for a day for Year 10 students hoping to join our Sixth Form in September 2021.
This is a fantastic opportunity for students to find out more about the college, its staff and the opportunities on offer.
Although we find ourselves in a challenging situation, the opportunity for Year 10 students to experience our Sixth Form is not one that we wanted to let pass by and we are excited at the prospect of doing this in a very different way to usual.
Our future Year 12s will have the chance to find out more about individual pathways, have digital taster lessons, meet the Sixth Form team and have a live Q&A via Microsoft Teams.
From the Monday of the week beginning 29th June, videos will be available on the Sixth Form website with the live aspects taking place from 11am Wednesday 1st July and Friday 3rd July.
This is a very exciting prospect for our future students and Whalley Range Sixth Form. We are excited to do things a little differently this year and hope that as many Year 10s engage with the virtual Sixth Former for a day, as much as possible.
Mrs J. Lomax, Head of Sixth Form (Sep 2018 – Aug 2020)
---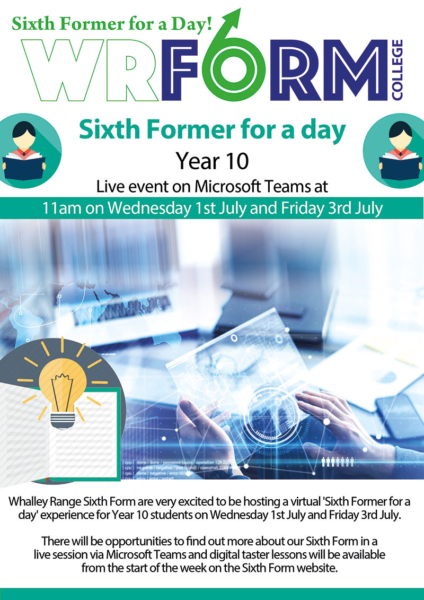 Virtual Sixth Form Induction Overview
Welcome to Whalley Range Sixth Form from the Academy Headteacher and Head of Sixth Form

Overview of pathways at WRSF:

Advanced Level
Advanced Vocational
Advanced Level and Advanced Vocational
Intermediate Vocational

Digital taster lessons for subjects offered at WRSF
Meet with Sixth Form Team via Google meet
Priority enrolment for WRSF