Global Awareness
Inspiring students to embrace a thirst for knowledge about the world around them – people, places, traditions, values and beliefs. Empowering students to challenge ignorance and adopt positive values that could have a global impact.
Head of Faculty
Mr L Beckensall (lbeckensall@wrhs1118.co.uk)
---
Faculty Subjects
Geography, History, Religious Education
---
Religious Education
Key Stage 3 (Years 7, 8 and 9)
RE is currently taught through Project Day
Overview
Key Stage 3 comprises of a variety of topics that are approached from a number of different viewpoints. The aim of Key Stage RE is to cover each of the main World Religions and Humanism to equip the students with the necessary skills in order to succeed at GCSE.
Year 7:
Year 7 are taught RE through Project Day- a day designed to help students transition from primary school and give them whole- day experiences of different RE based projects.
My Self
My City
My World
My Future
My Journey
Year 8:
Year 8 are taught an exciting and broad range of thematic world religions and life issues to encourage curiosity and acceptance of others in the modern world. The study 4 key topics across the year and will participate in 6 exciting research based homework projects which will end with a sharing week each half term.
How do people worship God
Festivals
Life after Death
Why do people suffer
Year 9:
Year 9-11 complete a 3 Year GCSE designed to prepare students on a range of real life religious and ethical issues in our modern and diverse world. They study AQA Religious Studies A which is comprised of two separate areas.
Paper 1a The Study of Religion: Christianity (Not Catholic Christianity) and Islam
Paper 2a Thematic Studies which has 4 components:
Theme B: Religion and Life
Theme D: Peace and Conflict
Theme E: Crime and Punishment
Key Stage 4 (Years 10 and 11)
Year 10:
AQA GCSE Religious Studies
Religious beliefs and teachings (Paper 1A): Christianity and Islam
Thematic Studies (Paper 2A): Religion and Life, Peace and Conflict, Crime and Punishment, and Human Rights and Social Justice
Year 11:
One lesson in Year 10 and one lesson in Year 11
Almost all the students are entered for a Full Course GCSE
Edexcel GCSE: Unit 1 Religion and Life and Unit 8 Religion and Society, with a focus on Christianity and Islam
---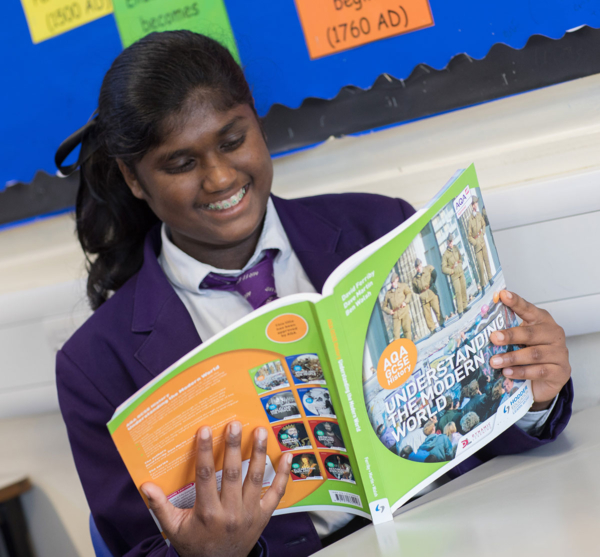 History
Key Stage 3
Year 7:
What is History?
My Manchester
Life in the Middle Ages
The Battle of Hastings
Norman Control
Henry VIII
Edward VI and Mary I
Year 8:
Elizabeth I
Tudor Women Project
James I and the Gunpowder Plot
Witchcraft
The English Civil War
The Great Fire of London
Age of Exploration
Britain and the Slave Trade
Year 9:
Rise of the Machines – Industrial Britain
The American Civil Rights Project
Girl Power – The Fight for Equal Suffrage
The Horrors of the First World
Hitler and the Second World War
The Holocaust
Key Stage 4 (Year 9 from March, Year 10 and 11) AQA History
Medicine Through Time
The American West (1840 – 1895)
History Around Us (controlled assessment)
---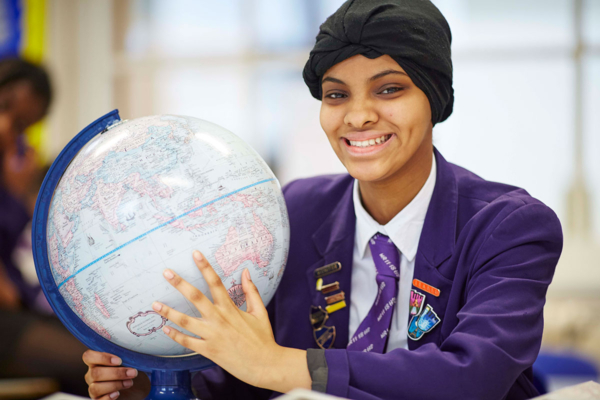 Geography
The Key Stage 3 Geography curriculum is designed to develop students' knowledge and understanding of the earth's human and physical process.
Year 7
Geography Skills, Volcanos and Earthquakes, China, Weather and Climate, World of Sport
Year 8
Antarctica, Rivers, Africa, Tourism
Year 9
Global Fashion, Extreme Weather, Ecosystems, People Everywhere, Ice, Urban Jungle
Year 10
AQA Geography
Unit 1 – Living with the Physical Environment
Unit 2 – Challenges in the Human Environment
Unit 3 – Geographical Applications