Due to the current circumstances and the fact that we will not be able to have our normal inductions days for our new students, we are giving Year 6 students the opportunity to take part in a 'Year 6 Virtual Sports Day'.
Sports Day is one of the best events of the year for PE staff, and they didn't want year 6 to miss out on being part of this event.
Members of the PE team have created 8 challenges for students to take part in. These challenges do not need any specialist equipment apart from a water bottle, a pair of socks and a trainer or shoe!
All results must be entered by Wednesday 15th July so that the winners can be announced on Friday 17th July 2020.
The Challenges
Challenges can be accessed via our Virtual Sports Day page on frog: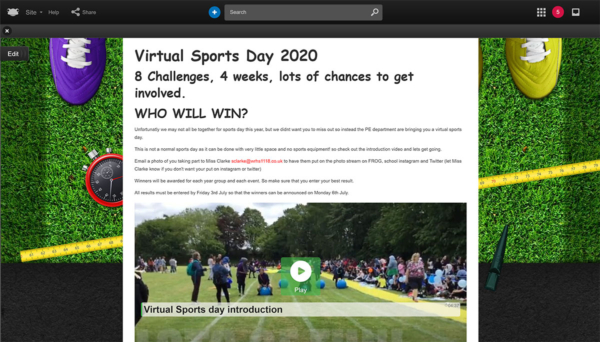 All challenges are demonstrated in videos by PE staff members. Underneath each video is a form to fill out your name, year group and score.
All challenges can be done at home and anyone of any ability can get involved! It would be fantastic to see as many students and staff getting involved as possible.
House team points are up for grabs for the first person in each challenge in each house. These students will also be receiving prizes. So what are you waiting for… get involved!
It's a fantastic opportunity for students and staff to engage in some physical activities from the comfort of their own homes. It's great for both physical and mental wellbeing! All challenges are easy to follow using our staff video examples. I am looking forward to seeing the results and to see which house will win. I am sure there will also be some competition between staff too! Good Luck everyone.
Mrs O'Brien (Assistant Head of PE)